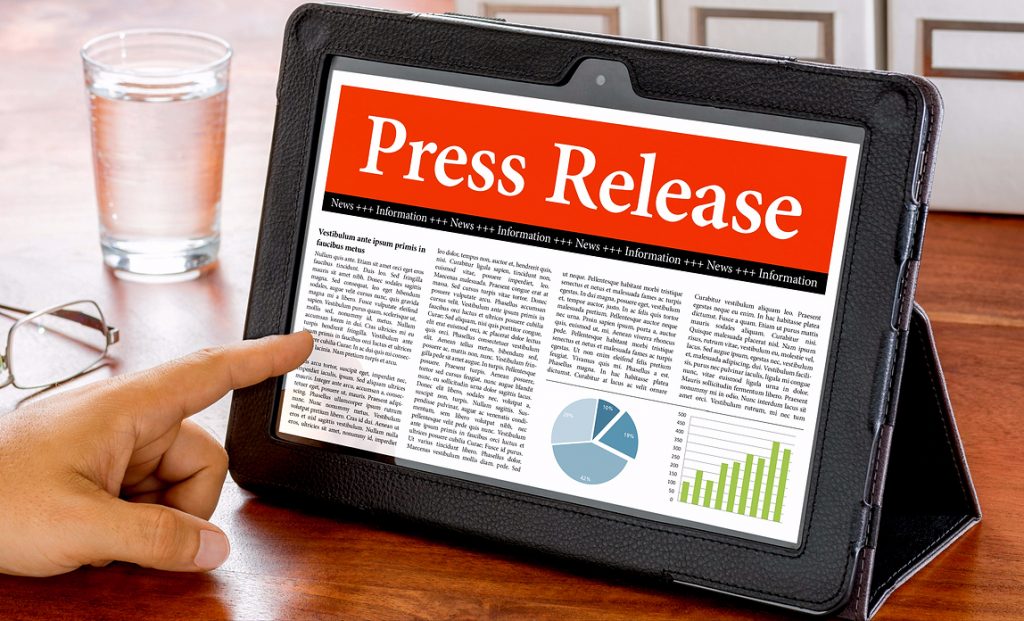 Press Release Basics
To thrive as a small business, you need press coverage. But, unfortunately, coverage doesn't just come naturally — you need to work for it.
Enter: The press release.
Press releases are important for increasing your brand awareness and helping your public relations (PR). But if nobody sees your release, you won't get very far. You need to distribute it effectively to get your story picked up by national newspapers, magazines, or blogs.
In this guide to press release distribution, we'll cover the following to help you put together a plan of action that results in coverage:
What is press release distribution?
Why is press release distribution important?
How to distribute your press release
Distribution mistakes to avoid
Should you use distribution services?
Keep reading to learn how you can properly create, pitch, and distribute a press release for optimal brand awareness.
What is press release distribution?
Before we dive any deeper, let's iron-out exactly what press release distribution is.
Here's a fancy definition: "Press release distribution is the process of circulating or seeding out your press release to journalists and members of the press."
The purpose of distributing a press release is to land coverage in media publications such as newspapers, radio, TV news bulletins, podcasts, or blogs. That way, you're positioning your brand in front of a wider audience.
Why bother distributing a press release?
People aren't going to see your press release if you don't distribute it.
And if it's not seen, people won't know about your business — which defeats the entire purpose behind creating your press release.
Gaining press coverage helps to get your business or brand name into the public forum. That's helpful for building awareness of your brand — especially when 44% of journalists consider press releases to be the most trustworthy source of brand-related information.
Distributing a press release also has these benefits:
1. Press releases can boost your SEO.
Over three billion Google searches are made every day.
By implementing SEO tactics into your overall marketing strategy, you're more likely to reach the top spots of users' search queries, which will help potential customers and clients find you when they're searching online for information related to your company, industry, product, or service.
Gaining links to your site from others is a huge ranking factor for SEO, as explained in a study by Backlinko:
Distributing press releases can help you land coverage on huge publications. Additionally, there's a chance those websites will link to yours, which can help to boost your own search engine visibility.
But what happens if you land awesome coverage without a backlink?
Don't panic. Both Google and Bing have suggested that positive brand mentions may play a role in how they rank your site, meaning positive PR coverage can aid your SEO efforts even without a link.
2. A press release can drive local foot traffic to your store.
If your business is a brick-and-mortar shop, press release distributions can help to get people through the door.
Whether you're running an event or simply launching an eye-catching sale, measuring foot traffic into your store after distributing a press release is a simple way to gauge how successful your release has been.
3. A press release can generate more sales.
If you're launching a new product or an exclusive line, a targeted press release can have a significant impact on your bottom line. Why? Because it help drum up interest and make revenue from your stock, especially if the offer sets you apart from competitors.
Busy shopping days can be a great way to get your products in front of potential customers.
For instance, if you're offering discounts on Black Friday or Cyber Monday, why not reach out to retail journalists to highlight your offers?
PR Agency One landed 52 pieces of coverage for their client with Black Friday press releases — all of which helped put them in front of consumers who were ready to buy.
How do you distribute a press release?
You know how important PR is, and you've crafted a succinct, yet powerful, story. All that's left to do is share it with the world.
But journalists have to write up to seven stories per day — so how do you ensure your press release is one of those stories? And just as importantly, how can you make your distribution email stand out in a crowded inbox?
Follow this five-step guide to learn how.
1. Find journalists who might be interested in your press release.
When you want to share some news, I'll bet you're tempted to tell as many people as possible. You want everyone to hear about it, right?
However, that's not always the right thing to do — because not everyone is interested in your story.
(Brutal, but honest.)
Along with crafting a press release that journalists are interested in, you'll need to be super-specific with the people to whom you send your pitches.
You can do that by searching for journalists who've already written about your topic or industry.
For instance, let's say you run a car parts business. You've conducted some research around potholes, gathered some interesting data, and turned it into a killer press release. But mailing every journalist under the sun is probably going to be a waste of time.
Instead, it's worth seeking out journalists who've covered similar topics before.
To do this, fire up Google, type in your topic (potholes), and navigate to the News tab:
As you can see, there are plenty of recent articles on this topic, meaning journalists are more than likely interested enough to cover it.
Next, read some of the articles on Google News and make a note of the journalists' names.
A simple spreadsheet with the journalist's name and the publication they write for is a good way to keep a log of your distribution plan:
If you have the budget, you can also use a media database such as Cision or Muckrack to find relevant journalists and reporters.
This method is much more likely to get you responses because you're only pitching the release to journalists who've demonstrated an interest in your topic already.
2. Get the journalists' contact details.
Next, it's time to find some contact information for the targets on your press release distribution list.
This could be as simple as clicking on an author's bio on their publication's site.
… and making a note of their email address:
But, just like anything else in the world of PR, it's not always that easy.
You'll often have to do a little digging to find the contact details — starting with a simple Google search such as "[journalist's name + email]".
If that doesn't do the trick, you could also use a media database like Muckrack:
Don't have the budget for paid databases? Harness the power of social media.
LinkedIn is an excellent place to discover contact information for professional contacts (AKA, your journalists). Simply search for "journalist" and filter the results by selecting your target publication as "company", then plug their name into Hunter to find their email address:
Twitter can also be a quick and easy way to get in touch with your target journalists, too — especially considering 46% of journalists are open to receiving pitches via Twitter.
3. Craft a killer pitch.
Email is the most effective way to send your press release quickly.
Don't believe me? Cision's 2017 State of the Media report found an overwhelming majority of journalists prefer to receive press releases via email:
However, there's another obstacle you'll need to overcome here — many journalists receive up to 200 pitches a day.
There are two factors you'll want to consider when crafting a pitch. First — keep it brief.
Don't waste the journalist's time with a long-winded, self-absorbed introduction to yourself or your business. They probably don't care.
Instead, get straight into the purpose of your email: The story, and why they should cover it in their publication.
Journalists are time-poor, so they'll appreciate a nice, succinct message that sells your story in a few words—like this:
Image courtesy of Janet Murray.
As you can see in the example above, the entire story is sold in the first sentence, with a direct question asking if the journalist is interested — rather than just assuming so.
Follow this up with a couple more sentences to give the journalist some additional information about your story, before adding a line spacer and pasting your full press release.
Note: Avoid adding your press releases as attachments. Journalists don't like opening attachments in fear of viruses or malware, so eliminate that problem by pasting the body of your press release below your pitch.
Second, it's critical you personalize your pitch.
Did you know that personalized emails are 26% more likely to be opened?
Bear that in mind when you're pitching news stories, and show some interest in the journalist's previous work by indicating that you know they're a good fit based on the topics they cover.
Try to build a relationship with the journalists first, rather than hitting them with a release and expecting instant coverage. Almost 15% of journalists consider this very important:
Image courtesy of Marketing Land.
Sometimes, it's worth playing the long game by getting to know your target ahead of your pitch. Engage with them on LinkedIn, respond to their tweets, and generally work yourself into their notifications — and their radar.
3. Make your subject line irresistible.
According to research by Fractl, 85% of publishers decide whether to open a pitch email based on the subject line alone.
So, how can you make sure yours gets opened? Try these tips:
Keep it short and sweet: 75% of publishers prefer subject lines with 10 or fewer words.
Ensure it's unique: A powerful subject line should be disruptive, innovative, or offer a human interest angle.
Make it super-specific: Over half of journalists want descriptive subject lines that are tailored to their previously-covered topics.
Provide exclusivity: If you've got some unique data or research, shout about it! Exclusivity can help to get a journalist's eyes on your press release.
… And one thing to avoid? Clickbait. It's really that simple.
4. Send your press release pitch (at the right time).
Press release? Check. Pitch email? Check. Contact details? Check.
… But that doesn't mean you're ready to distribute your press release.
You'll need to think about the day (and time) you hit the "send" button because certain days and times have better success rates than others.
For instance, 61% of journalists prefer to receive press releases in the morning. That's almost two thirds, so it's probably worth getting your pitch out early to have the best chance of success.
However, remember that journalists have an average of 300 emails waiting for them in the morning. It might be best to wait an hour or so, and send your release mid-morning for a better chance of your pitch standing out in their inbox.
Additionally, it's important to consider the day of the week. While modern-day businesses are often active seven days a week, there's still a traditional lull in pick-up rates when it comes to press release distribution.
So, consider the day you send your release — it might land more coverage if you pitch it midweek, as opposed to sending first thing Monday morning.
According to an analysis of over 100,000 press releases by Ragan, Tuesdays and Wednesdays are the best days to distribute your story. And a further study by Prowly recommends sending on a Thursday, with data suggesting over 26% of press release emails are opened by journalists on this day:
Image courtesy of Prowly.
Both studies indicate that Mondays and Fridays are not as effective, and you should definitely avoid sending your story over the weekend.
However, there's no one-size-fits-all rule — which is why you should test a few different days and times and see what works best for your industry.
Are you pitching a time-sensitive press release?
You can still send it ahead of time. Just make sure you embargo the information in your release until it's ready to become public knowledge. You can do this by adding "Embargoed; not to be released before DATE" to the top of your distribution email.
5. Follow-up on your release.
An age-old question: Should you follow up on your press release?
It depends on who you're asking, but generally, the consensus seems evenly split. Some people believe following up to be a big no-no, while others indicate that it can be fruitful.
If you have a release you're particularly proud of, it won't hurt to follow up if you're struggling to land coverage — provided you're tactful.
Don't just spam the journalist's inbox with the same press release and the same pitch, however. That can get annoying, and ruin your chances of getting your story picked up.
Instead, try slightly tweaking the angle of your pitch. PR expert Carrie Morgan recommends treating a follow-up email as "a fresh pitch transitioning MY news into THEIR NEWS."
You could also try giving the journalist — however, only 23% of journalists welcome being contacted by phone, so if your target is one of the other three quarters, you may find yourself hearing hundreds of answering machines.
Either way, it could be worth following up, particularly if you're confident your press release is a newsworthy piece that deserves coverage.
What are some common press release distribution mistakes?
All set to send your next press release? Hang on a second.
Before you let fly and distribute your story, are you about to make any fatal errors? The last thing you want is to annoy the journalists on your target list. It might leave you with no coverage at all.
Here are some common mistakes people make, and how you can avoid them when you distribute your press release.
1. Your press release is too long.
Your story needs to be short and succinct — especially when journalists spend less than a minute reading a press release.
The easiest way to get your pitch read is to cut the fluff. Ditch anything that a journalist doesn't need to read, or any sentences that won't add value to a reader if your release is published in its current form.
Your story should be brief and to the point, but with enough detail to give the journalist the full story.
Consider taking it a step further and breakdown the "meat" of your press release into a handful of easy-to-digest bullet points. The same AdWeek survey says that 53% of journalists prefer to receive the facts in this format.
Remember — every sentence counts.
2. You're targeting the wrong people or publications.
If you work for a small business looking to get some coverage, you're more than likely going to get the most success from contacting local publications.
Don't bother sending your press release to a national or international news outlet — it's incredibly rare that a local story is important enough to make national news.
You should also double-check that your target journalists are a good fit. Many tend to specialize in one or two interests — emailing a sports reporter about a press release related to health isn't likely to result in coverage.
Whatever your story, make sure the journalists and publications on your press release distribution list are relevant to your industry and audience.
3. Your story isn't newsworthy enough.
Before hitting send and distributing your release, take a moment and ask yourself: "Is this story actually newsworthy?"
If your release is too self-promotional, you'll probably find that journalists won't want to turn it into a story. Their job isn't to give you free publicity — they want to share stories that will entertain their audiences.
To avoid your release being sent straight to the trash, ensure it's got a relevant angle, and includes solid information, statistics, and data.
Any accompanying quotes should bring the story to life, rather than over-selling your own company.
4. You didn't include your contact info.
Imagine crafting that story, pitching it, and finding a reporter who's interested and wants to contact you for a quote. But the journalist hits a dead end and is unable to contact you.
Unfortunately, if you don't include your contact information on the press release, you risk losing out on the chance for increased exposure. The journalist shouldn't have to go digging to find out how to contact you.
You need to make it easy for journalists to contact you by leaving a phone number and email address in your press release distribution email — ideally ones that are checked and answered frequently.
Should you use press release distribution services?
Distributing a press release sounds time-consuming, doesn't it? If only there was a way to get yours seeded out quickly, at scale.
Fortunately, there is.
If time is tight (and if you're a small business owner, it usually is), a press release distribution service is your friend. These services allow you to send out your release to relevant journalists, without having to do any of the manual work yourself.
Although the cost of press release distribution might seem off-putting, just remember that time is money. And by letting the experts distribute your news story, you can spend more of your own time doing the things that make a difference to your bottom line.
So, if you fancy taking distribution off your plate, check out these five services that will gladly take the job off your hands.
Remember to Keep the Relationship Alive
When you need to create a press release, follow the distribution steps in this guide to boost your chances of landing coverage.
But remember — not every press release will get picked up and turned into a news story, so don't get too disheartened if it takes a while to gain some traction.
Keep tweaking and refining your approach until you see success. Your first piece of coverage could well be the domino that starts the run. A story picked up by one news outlet can soon snowball from publication to publication.
Plus, if your story does get picked up, don't forget to thank the journalist. It can facilitate a relationship with the journalist which you can then nurture, and might lead to easier coverage down the line.
Ultimately, you can never have too much good press!